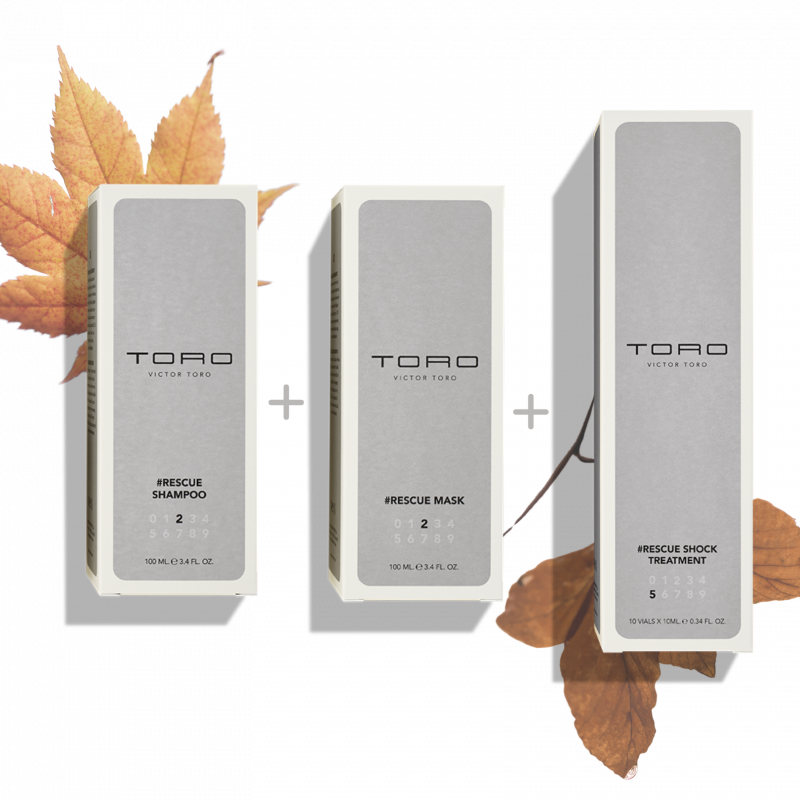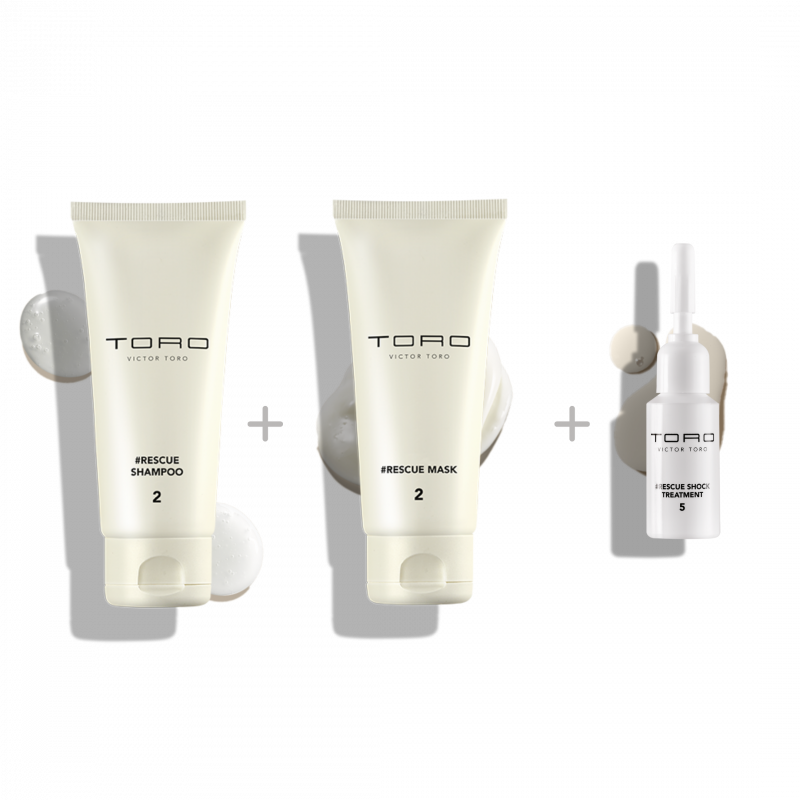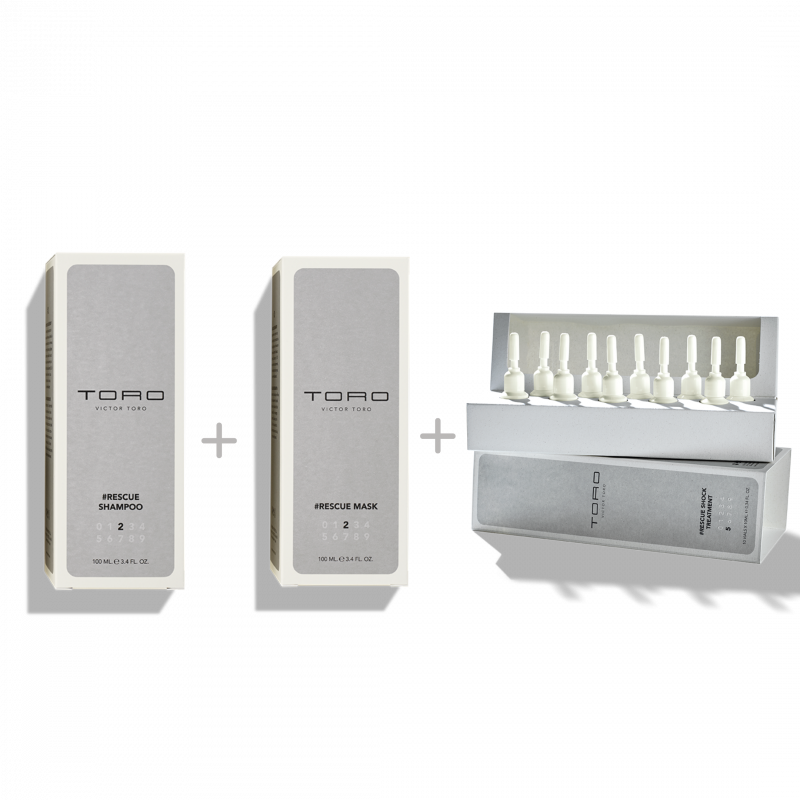 #AUTUMN PACK
The #Rescue line deeply regenerates, nourishes and balances to provide optimal repair and vitality to damaged hair. Perfect for restoring strong, healthy hair in the run-up to autumn.
Autumn is here and with it comes the dreaded hair loss. The #Rescue collection is perfect to prevent and remedy it. It is suitable for all hair types, especially damaged, treated, dull, lifeless hair, including hair loss.
#Rescue Shampoo
This repairing shampoo works in the fight against hair ageing. It protects both the hair follicle and hair fibre, allowing new hair to grow strong and healthy while increasing hair density. 
#Rescue Mask
This mask repairs damaged hair while restoring shine and density that has been lost over time due to the natural ageing process and/or aggressions caused by environmental pollution, chemical treatments and excessive use of heat styling tools. It works in perfect harmony with Victor Toro #RESCUE Shampoo, as a true treatment to repair and regenerate, even to help prevent hair loss. Inspired by the 2017 Nobel Prize in Medicine on molecular mechanisms of cellular resynchronisation. Stress produced by the intense pace of everyday life, mobile phones, computers, work and travel destabilise these 24-hour circadian rhythms. This product resynchronises the cells of the hair and scalp.
The result is healthy, regenerated hair that looks and feels softer, silkier and thicker. 
#Rescue Shock Treatment
Intensive oil-free treatment to slow down and prevent hair loss, allowing hair to grow stronger and thicker. Rescue Shock Treatment acts directly on the scalp to nourish, strengthen and treat the hair follicle and resynchronise the circadian rhythm of the scalp.
It consists of 10 vials of 10 ml and constitutes a complete treatment cycle. The treatment will not be able to activate hair growth in follicles that have already closed and died. However, weak, stressed and malnourished hair follicles will benefit greatly.
This treatment is recommended for all hair types and is especially effective in combating hair loss. In this case, it is recommended for those suffering from alopecia, when it is caused by stress-related problems. It is also recommended for fine and damaged hair, to strengthen the hair and add volume.
#Rescue Shampoo
Apply approximately a hazelnut-sized amount to wet scalp and hair.  Massage gently to create a creamy lather and leave on for 2-5 minutes. Rinse thoroughly with lukewarm water.
As a natural, sulphate-free product, it does not lather well so a second wash is recommended to create a lather and wash hair more thoroughly. 
#Rescue Mask
Apply to clean hair and scalp and leave on for 5-10 minutes. Rinse thoroughly with lukewarm water.
For maximum effect, we recommend wrapping hair in a warm towel or cling film after applying the mask to facilitate the penetration of the product and improve results. 
#Rescue Shock Treatment
Apply the lotion with the dropper to the clean scalp, from front to back, in sections. Massage the product with the fingertips. Once applied, it is recommended not to wash the hair for at least 8 hours to allow the product to penetrate and enhance the benefits. 
This treatment is applied every other day. The amount will depend on each individual but generally 1/2 vial is used per application. 
#Rescue Shampoo
B-Circadin, Rambutan, Fruit Acid Extract, Tumeric, Sage, Beet Extract, Wheat Extract, Rosemary Extract.
#Rescue Mask
B-Circadin, Rambutan, Turmeric, Sage, Rosemary Exract, Wheat Extract, Olive Oil, Abyssinica, Jojoba.
#Rescue Shock Treatment
B-Circadin, Rambutan, Olive Complex, Tumeric, RoseBay, Benthamiana Extract, Red Clover, Basil Root Extract, Algae Extract.