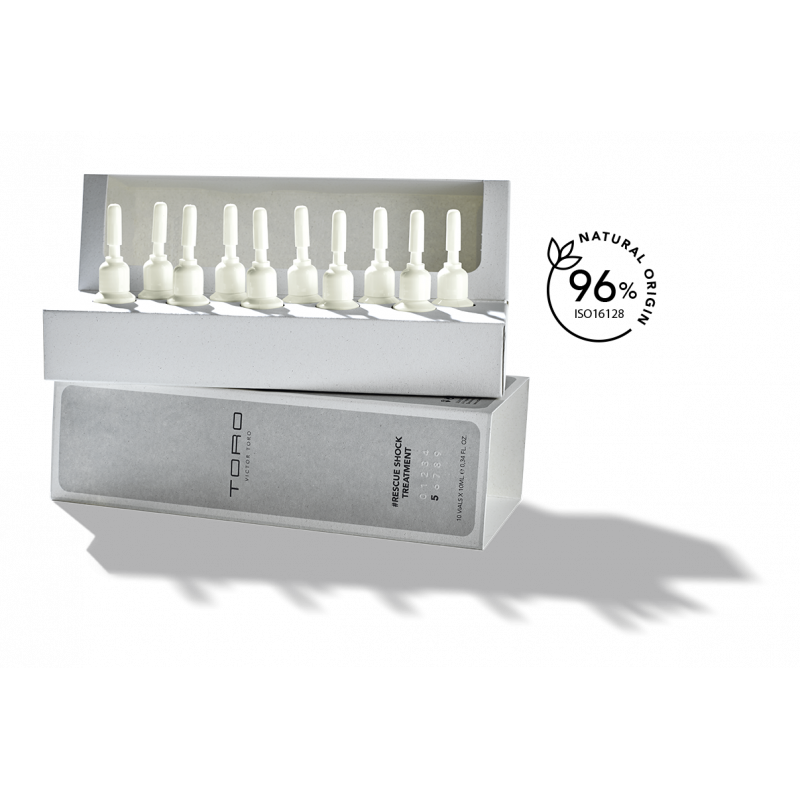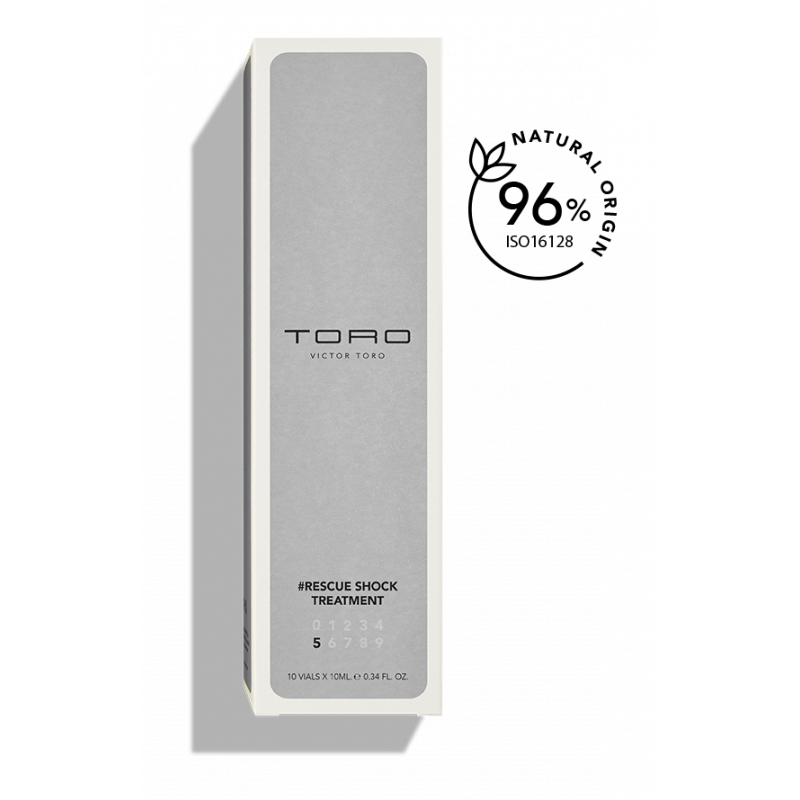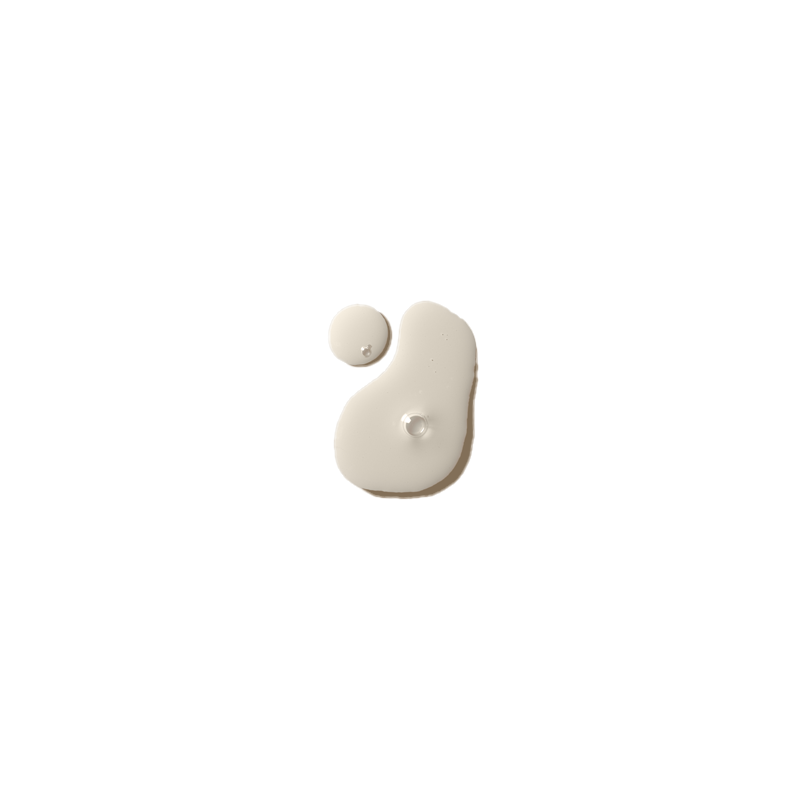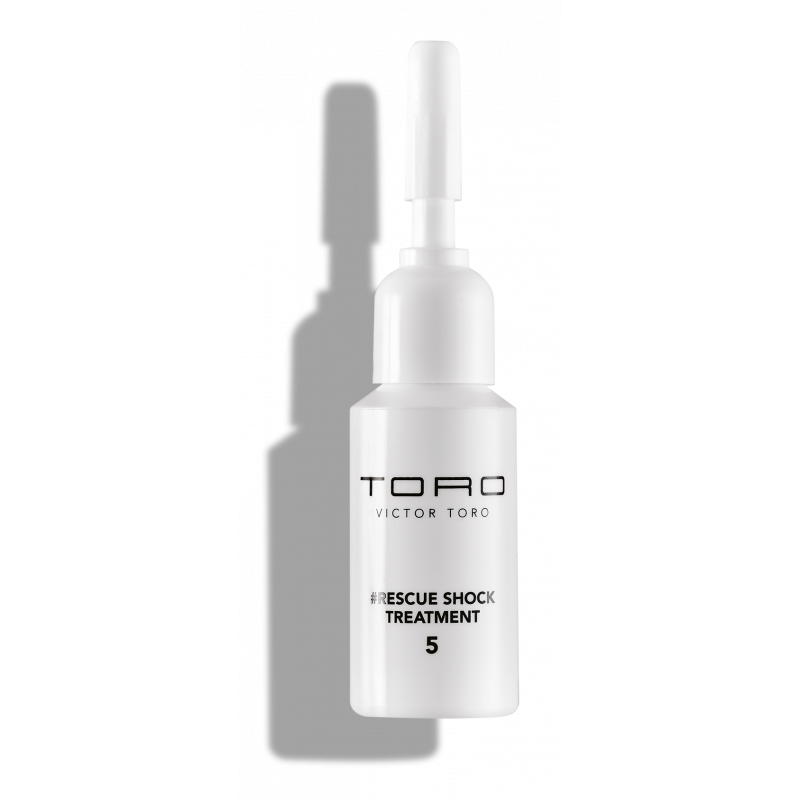 5
#RESCUE SHOCK TREATMENT
Intensive treatment to slow down and prevent hair loss, allowing it to grow stronger
An intensive oil-free hair shock treatment that slows and prevents hair loss, to allow hair to grow stronger and denser. The Rescue Shock Treatment acts directly on the scalp, to nourish, strengthen and treat the hair follicle and resynchronize the circadian rhythm of the scalp and hair at the cellular level.
It consists of 10 vials of 10 ml and constitutes a complete treatment cycle. The treatment will not be able to activate hair growth in those follicles that have already closed and died. However, weak, stressed and undernourished hair follicles will benefit greatly.
This treatment is recommended for all hair types and is especially effective in combating hair loss. In this case, it is recommended for those who suffer from alopecia, when it is caused by stress-related problems. Also for fine and damaged hair, to strengthen the hair and add volume.
This is a treatment for the scalp and not for the hair, and as such it should be applied to a clean scalp. Work methodically from the front of the scalp to the back in sections, applying the lotion with the dropper and gently massaging the fingertips into the scalp, paying special attention to those areas that show signs of hair loss. The product is quickly absorbed.
Once applied, it is recommended not to wash the hair for 8 hours to allow the product to fully penetrate the scalp. It is recommended that the treatment be used every other day. The use of the vial will depend on each individual and the area to be treated, but it is estimated ½ vial per application.
B-Circadin, Rambutan, Olive Complex, Tumeric, RoseBay, Benthamiana Extract, Red Clover, Basil Root Extract, Algae Extract.
Water (Aqua), Propanediol, Butylene Glycol, Betaine, Curcuma Longa (Turmeric) Callus Conditioned Media, Lespedeza Capitata Leaf/Stem Extract, Epilobium Angustifolium Flower/Leaf/Stem Extract, Trifolium Pratense (Clover) Flower Extract, Eucalyptus Globulus Leaf Extract, Nephelium Lappaceum Seed Extract, Chlorella Vulgaris Extract, Ocimum Basilicum Hairy Root Culture Extract, Acetyl Tetrapeptide-3, SH-Oligopeptide-10, SH-Oligopeptide-2, SH-Polypeptide-1, SH-Polypeptide-11, SH-Polypeptide-9, Biotinoyl Tripeptide-1, Oligopeptide-2, Arginine, Apigenin, Glycoproteins, Gluconolactone, Tocopherol, Oleanolic Acid, Sodium Levulinate, Phenoxyethanol, Caprylyl Glycol, Potassium Sorbate, Sodium Benzoate, Sodium Phytate, Sodium Metabisulfite, Dextran, Alcohol Denat, Glycerine, Lecithin, Maltodextrin, PPG-26-Buteth-26, PEG-40 Hydrogenated Castor Oil, Citric Acid, Lactic Acid.